Books
Books Available: Amazon, Yahoo Books, StreetSaintPublications

Author's Mailing Address

Bound by Red Clay
"Neca Stoller's poetry is vibrant and vivacious, and captures in its essence the spirit and elegance of Japanese poetry in an English medium. Over the years Ygdrasil has had the great pleasure to publish many outstanding writers and poets, and Neca Stoller ranks among the finest." Klaus Gerken, Founder Ygdrasil, Journal of Poetic Arts.

Nominated:
Kate Tufts Discovery Award
2th Annual Benjamin Franklin Award
Pushcart Poetry
ISBN 0-9646450-8-4
Available at Amazon Barnes and Noble DeeMarCommunications
Piedmont Stubble
"A book of poems to read by the bright light of one's soul. Neca Stoller fulfills the role of nature poet with refreshing metaphors that shimmer with originality, verve, buoyancy and miraculous uncommon flair for language. A contemporary southern poet who consistently astounds with her many gifts, illuminating the secret inner-landscape of the human self." Ernest Slyman Forum for Creative Excellence in the Arts, Guggenheim Foundation/artnet.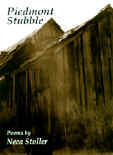 Nominated:
Georgia Author of the Year Award
Pushcart Poetry
ISBN 1-931090-14-9
Available: Amazon, Yahoo Books or StreetSaintPublications
Read a Review at Midwest Book Review
How to Write Haiku
How to Write Cinquain
Beginner's Guide
"Neca has a broad understanding of the haiku form. At its best, her own writing manages to achieve the ultimate goal of a haiku: to clearly capture a moment such that the reader is both drawn in and then sent beyond, following a wealth of associations and meanings." A. C. Missias, Editor of Acorn, Journal of Contemporary Haiku.
Awards: Haiku Society of America -Renku Award
(with Laura Young)
Kumamoto International Haiku(3rd)
International Kusamakura Haiku Competition(2nd)
National League of American Pen Women (3rd)
Itoen Tenth International Contest(2nd)
Red Moon Anthology
ISBN 0-615-11677-9
Available at Amazon or StreetSaintPublications

Links-To Assist Authors
Keebo Books Create your own book
Rocket Books-Write your own
Free PDF Writer
Author's Den
Author's Base
Writer's Website
Isbn Numbers
Copyright your book

Below are links with instructions for folded books and hand sewn books. The size of the folded books is determined only by the paper size. Hand-made paper is quite lovely with this project.
Making Books
Make a Folded Making a Book
Hand Bound Haiku Journal
Concertina Book Instructions
Book Binding by Hand
Simple Paper Making Instructions
Paper Making

Haiku Journal- Hand made paper, hand bound.
This is excellent method for poetry chapbook publication.